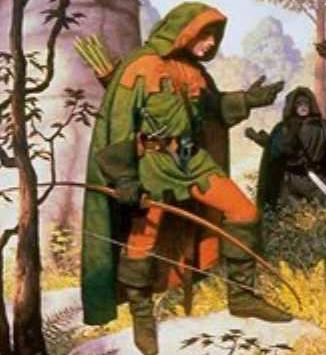 <![if !vml]>

<![endif]>
By Samuel Stokes
2012 Samuel Stokes
This script may not be reproduced, distributed, or performed without the express written consent of Samuel Stokes. Please do not e-mail, copy, or otherwise transfer electronically without the express permission of Samuel Stokes.
samuelstokes@yahoo.com

---
Characters
Alan-a-Dale – Troubadour, acts as a narrator. He is an excellent lutenist and singer, but he is very childlike and naïve.
Robin Hood – a nobleman that fought with King Richard on his crusade. He has returned from battle to find that his family's estate has been usurped by the Sheriff of Nottingham. He has a quarrel with the Sheriff and promptly becomes outlawed.
Much the Miller – young man who is outlawed after killing the king's deer, becomes one of Robin's band of merry men. He is slightly mischievous.
Friar Tuck – A chubby and often sour-tempered friar who joins Robin and his band. Although he overindulges in food and wine, he is strongly dedicated to his principles.
Little John – a large woodsman originally named John Little who is renamed "Little John" by Robin Hood. He is not as intelligent as Robin, but he has a strong heart and will fight for the cause of justice.
Will Scarlett – one of the woodsmen. He distrusts Robin.
Sheriff of Nottingham – A corrupt sheriff whose unjust taxes have impoverished the people of Nottinghamshire. He has a vile temper and acts quickly on his anger.
Guy of Gisborne – a nobleman in league with the Sheriff. Unlike the Sheriff, he things before he acts.
The Executioner – a mysterious, dark assassin. Little is known of him, except that he is trained in a variety of Eastern and Western martial arts.
Abbot – The Abbot of the Abbey of Nottinghamshire whose sole desire is power. He is a puppet of Prince John.
Lady Marian – Robin Hood's love, a noble woman of Nottingham.
---
---
---